Let's get the picture out of the way first, right?
I haven't even pulled the plastic film off of the Strat yet, so it still has the sticker on it. I've got a couple of stools in there for me and my Audience of One to sit on.
And the amp is currently taken apart, for my re-tube/restoration project. I found someone who will reproduce the faceplate/control panel for less than $100, since the current one is rusted and the numbers are all faded. The amp is supposed to go to "13" and instead it goes to "weird red rust spot"!
When I'm done, the amp is going to look very much like this: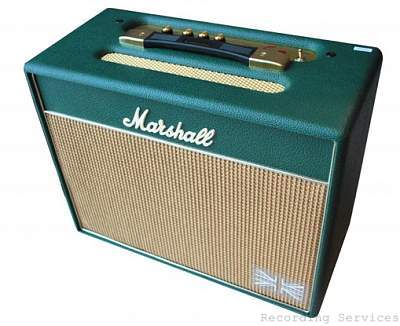 My amp is a Peavey, not a Marshall, so I won't put a Marshall logo on it. The color scheme is the same though. Wish me luck, I've never ever done anything remotely like this before.
And my amp is taken apart. Holy crap. Crap crap CRAP. In PIECES!!